J. C. Dante
Biography
Jill Reese is a humorist, freelance writer, half-way house landlord for lost animals and surly teenagers, and mama-bear to four children (friends of said surly teenagers). She is the author of the ebook, Confessions of a Southern-Fried Yankee, and a regular online contributor to Story of My Life, Open Salon, and the Yahoo Contributor network. A Yankee by birth, Jill now resides in the deep South, where she finds writing material plentiful. Jill is guided by the ghost-muse of Erma Bombeck and has memorized all the hidden survival stashes of chocolate she keeps around for when the urge to become a bell tower sniper beckons.
Where to find J. C. Dante online
Books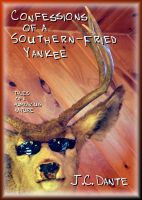 Confessions of a Southern-Fried Yankee
By
J. C. Dante
Price:
$2.99 USD.
Words: 22,870. Language: English. Published: January 23, 2011. Category: Nonfiction
(3.67 from 3 reviews)
Do dumb people get on your nerves? Have you ever been horrified by the sight of folks in pajamas running around in public? Do deer heads and stuffed turkeys decorate your condo? If so, you are in good company, especially if you happen to be a Yankee transplant living in the South. From wacky neighbors and monster bugs, to pigs and polygamy, you'll laugh out loud.
J. C. Dante's tag cloud