Jeannie Thomma
Biography
Jeannie Thomma was born holding a purple crayon. Since that time, she has left her creative mark on everything that has crossed her path. Inquisitive by nature, her favorite word as a young child was "Why?" Her fascination with wonder-filled questions continues to guide her today. A seeker of truth, Jeannie holds "the art of process" as sacred ground for creative discovery and spiritual renewal. It's no wonder then, given her lifelong fascination with creativity and curiosity that Brave Artist, her first book, is built upon these very same guiding principles.

An accomplished fiber artist, master teacher, inspirational creativity coach and former gallery owner, Jeannie Thomma brings a rich understanding of the obstacles and fears that artists encounter on the journey to self-expression. For more than a decade, Jeannie has been asking artists the questions that bring them face to face with their fears and allow them unmask their own creative brilliance.
Where to find Jeannie Thomma online
Books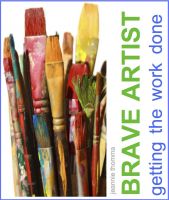 Brave Artist: Getting The Work Done
(4.00)
Brave Artist shines a light on the courage that is required to pursue the artistic path. Written as a series of questions, it is a powerful guide for readers who are in search of a way to identify and remove the creative blocks that keep them stuck. At its core, Brave Artist is a book about belief, and the mindset that is required to own and take full responsibility for your creative power.