Jeff McSwain
Biography
Jeff McSwain is the founder of Reality Ministries of Durham, North Carolina. Jeff earned his Masters of Theology degree studying with Alan and J.B. Torrance at St. Andrews University in Scotland. His passion is to combine sound theological teaching with the everyday practice of youth ministry. He is the author of Movements of Grace: The Dynamic Christo-Realism of Barth, Bonhoeffer, and the Torrances.
Where to find Jeff McSwain online
Books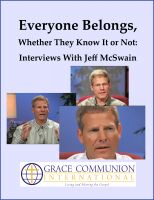 Everyone Belongs, Whether They Know It or Not: Interviews With Jeff McSwain
Jeff McSwain, founder of Reality Ministries in Durham, North Carolina, explains that everyone belongs to Jesus Christ, even if they don't know it yet. Jesus has already changed who they are, and that is a fact whether or not they respond to it. The Calvinist is wrong in saying that Jesus did not die for everyone; the Arminian is wrong in saying that Jesus is not effective unless we respond to him.
Jeff McSwain's tag cloud