Jennie Brown Hakim
Biography
Jennie Brown Hakim is a writer, graphic artist and thinker from Orange County, California. She is the author of Medgar Evers (Melrose Square Press) and has written articles for Vision and Orange Coast magazine. In time, she hopes to be a true "wisdom broker" in the tradition of Alexandra Stoddard, Jennifer Louden, and SARK. Visit Jennie at her site, www.JennieBrownHakim.com.
Where to find Jennie Brown Hakim online
Books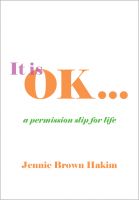 It is OK
The world is full – I would say overabundant – with voices and texts telling people what they should do. Far less common is permission on what it is OK to do. This book aims to fill that gap. We have a common-sense intuition of what is OK, but noise from the media, the culture, and sundry traditions prevents us from hearing that gentle voice of reason.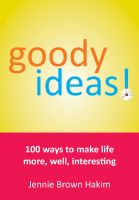 Goody Ideas
Go into any bookstore and you will find thousands upon thousands of good ideas competing for your attention. This a book of goody ideas. What is the difference? Good ideas are practical, such as contributing to a 401K or getting your oil changed according to your car's vehicle manual. Goody ideas are just for fun - and everyone could use more of that.
Jennie Brown Hakim's tag cloud