Jay Kerner
Biography
Jay Kerner is the CEO of U.S. Realty Partners, a regional commercial real estate operating company and consulting firm focused on high quality properties in California and Arizona. He has over twenty seven years of experience in the acquisition, operation, development, leasing and management of retail, multi-family, office and mixed use properties. Mr. Kerner was formerly Regional Director of Capital and Counties, U.S.A., a privately held real estate investment trust with 2.5 Million square feet of retail, office, multi-family and mixed use properties organized as a subsidiary of Capital Shopping Centres Group, London (a publicly traded FTSE 100 company; CSCG.L). In addition to his duties overseeing acquisitions, dispositions, financing, and operations, he was a key executive involved in the sale of the company to Equity One (NYSE; EQY) in 2011 for more than $600 Million. Prior to that, he was Senior Director of Acquisitions for Federal Realty Investment Trust, a public REIT with more than 19 million square feet of high quality mixed use and retail properties in the best markets in the U.S. (NYSE: FRT). Mr. Kerner was also President of Kerner Management and Investments, a regional shopping center operator and developer, for more than 10 years. Over his career, he has been personally involved in more than $1 Billion in commercial real estate projects. Mr. Kerner is a graduate of UCLA with a degree in Business & Economics. He is a member of the International Council of Shopping Centers and has served as a speaker at past events. In addition, his is a licensed California Real Estate Broker and General Contractor. Mr. Kerner is also the author of Chasing Yield; an Individual Investor's Guide to Passive Commercial Real Estate Investments.
Where to find Jay Kerner online
Where to buy in print
Books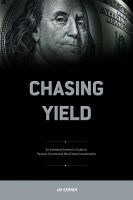 Chasing Yield
We live in a constantly changing investment world, and investors should be focused on adjusting and expanding their portfolio to maximize returns and reduce risks. Watching for emerging trends and opportunities is an important part of this process. This book can help you better understand and profit from passive investment opportunities in commercial real estate.