Jim McMillen
Biography
Jim McMillen's lead characters portray everyday people who must fight for survival after accidentally falling into situations beyond their control. His page-turning suspense-thriller novels are written to keep readers highly involved.

A native of Oklahoma, Jim McMillen was raised in West Texas, moving there with his parents during the latter years of the Great Depression. He was an oil patch roustabout during high school summer breaks. He entered The University of Texas, Austin, and married Delorise Mullins after his sophomore year.

McMillen left college and began a 41-year newspaper career, starting as an advertising sales representative, advancing to become a publisher in 1974. He headed Freedom Communications daily newspapers in Florida and Indiana, and was a limited partner in six of the company's newspapers. Upon retirement, he and Delorise moved back to Florida in 2000.

Among numerous church, civic and professional positions, McMillen is a Rotary Paul Harris Fellow and was president of the Hoosier State Press Association.

He and Delorise have three children and three grandchildren.
Where to find Jim McMillen online
Books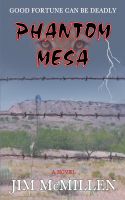 Phantom Mesa
When news spreads that West Texas rancher Clovis Carlisle intends to lease haunted Phantom Mesa, part of his ranch, to create an 80-turbine wind farm, he is confronted by issue-driven protesters, a revengeful Mexican drug lord, electricity-sensitive neighbors, and a pot-smoking meth lab operator. In addition, a coldblooded Russian hit man is hired to kill Clovis.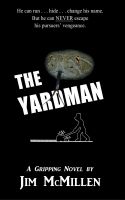 The Yardman
Pint-sized alias Jesse Phillips drifts into a small West Texas town in 1938. A yard care operator, he lives in quiet anonymity. Connecting a 1942 Pennsylvania slaying to a 1937 horrific Indiana murder, police close in on fugitive suspect Jesse while revengeful killers race to track him down. History-woven, bone-chilling episodes cross Illinois, Missouri, Oklahoma, Arkansas, and Louisiana.