J. Meyers
Biography
j. meyers grew up in Vermont, spent three years in Germany when she was a kid, and now lives in Central New York. When she's not reading or writing, she's chasing after her four kids, exploring the outdoors with her family, baking sweet treats, and forgetting to make dinner. She is the author of the young adult contemporary fantasy series featuring Intangible, Imaginable, and the companion novella Indomitable. She also writes new adult contemporary romance under the name Jinsey Reese.
Where to find J. Meyers online
Books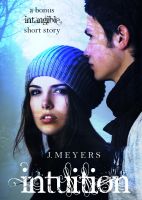 Intuition
(4.10)
Luke and his twin sister Sera have unusual abilities. Hers is a gift--she can heal with a touch of her hand. His is a curse--he can see the future but he can't do anything about it. On a hike up the mountain, Luke has a vision unlike any other--one that leaves him terrified. Knowing that it will come true--and that he must do everything in his power to stop it--leaves his own future uncertain.
J. Meyers's tag cloud