Julia Mossbridge
Biography
I am a spiritually-oriented cognitive neuroscientist, and I wrote this book to integrate what I know about doing science with what I've learned about doing transformational work.

In addition to this book, I have published multiple scientific papers and presented at national and international scientific meetings and have also published personal essays in the Institute for Noetic Sciences Review and the Hip Mama anthology. I am a peer reviewer for Perception, Cognition, PLoS One, and the Journal of the Acoustical Society of America, I was awarded Highest Honors in Neuroscience from Oberlin College (1991), the Laura Ann Wilber Audiology Scholarship (2004), the Oberlin Alumni Dissertation Fellowship (2004), two grants from the Bial Foundation (2008 and 2010) and most recently, I have been awarded a post-doctoral training fellowship from the National Institutes of Health (2011).

I live in Evanston, Illinois, with my partner and son, and I am currently a post-doctoral fellow at Northwestern University. This is the second edition of Unfolding, which is my first book.
Where to find Julia Mossbridge online
Books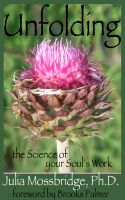 Unfolding: The Science of Your Soul's Work
In Unfolding, scientist Julia Mossbridge presents a fun, practical, and non-dogmatic method to help you discover, master, and share your life's work. Try just a few of her gentle yet powerful experiments, and you will discover for yourself what it means to become the "scientist of your soul."