Joan Marie Verba
Biography
Joan Marie Verba earned a bachelor of physics degree from the University of Minnesota Institute of Technology and attended the graduate school of astronomy at Indiana University, where she was an associate instructor of astronomy for one year. Her first occupation was as a computer programmer, then, she retrained as an editor. She has had nine years' experience advising clients how to lose weight as part of a nationally advertised weight loss program, and has additional training as a health coach. An experienced writer, she is the author of the nonfiction books Voyager: Exploring the Outer Planets, Boldly Writing and Weight Loss Success!, as well as the novels Countdown to Action!, Action Alert!, and Deadly Danger! plus numerous short stories and articles. She is a member of the Science Fiction and Fantasy Writers of America, and the Society of Children's Book Writers and Illustrators. She has served on the board of directors of both the Minnesota Science Fiction Society and the Mythopoeic Society.
Where to find Joan Marie Verba online
Where to buy in print
Books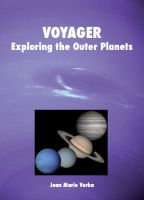 Voyager: Exploring the Outer Planets
In 1977, NASA launched the space probes Voyager 1 and Voyager 2 to explore Jupiter, Saturn, Uranus, and Neptune. This book tells of what was known about those planets and their moons before the Voyager missions, as well as what Voyager discovered about those planets and their moons. This book is written for the middle-grade reader, and can be enjoyed by readers age 12 and up.