Joe Ed Lambert
Biography
Joe founded the Center for Digital Storytelling (formerly the San Francisco Digital Media Center) in 1994, with wife Nina Mullen and colleague Dana Atchley. Together they developed a unique computer training and arts program that today is known as the Standard Digital Storytelling Workshop. This process grew out of Joe's long running collaboration with Dana on the solo theatrical multimedia work, Next Exit. Since then, Joe has traveled the world to spread the practice of digital storytelling and has authored and produced curricula in many contexts, including the Digital Storytelling Cookbook, the principle manual for the workshop process, and Digital Storytelling: Capturing Lives, Creating Community.

Born and raised in Texas, Joe has been active in the Bay Area arts community for the last 25 years as an arts activist, producer, administrator, teacher, writer, and director. In 1986, he co-founded Life On The Water, a successful nonprofit production company that offered a broad array of programs serving San Francisco's diverse communities. Joe has produced over 500 shows, ranging from theatrical runs, single performances, special events, citywide festivals, subscription series, conferences, and digital story screenings. Prior to his career in the arts, Joe was trained as a community organizer and assisted in numerous local, statewide, and national public policy campaigns on issues of social justice and economic equity. He has a BA in Theater and Political Science from the University of California at Berkeley.
Where to find Joe Ed Lambert online
Books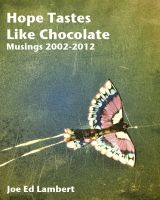 Hope Tastes Like Chocolate - Musings 2002-2012
A selection of essays, poetry, reviews and commentary by Center for Digital Storytelling founder Joe Ed Lambert. From 2002 - 2012, Lambert wrote online commentaries on numerous issues including the arts, politics, movie and theater reviews, travel writing, culture and society, mindfulness,and the nature of story and storytelling, and the comings and goings of his personal life.