Joanne Hall
Biography
Joanne Hall lives in Bristol, England, with her partner. She has been writing since she was old enough to hold a pen, and gave up a sensible job in insurance to be a full time writer, to the despair of her mother. She dabbled in music journalism, and enjoys going to gigs and the cinema, and reading. Her first three novels, which made up the New Kingdom Trilogy, were published by Epress Online. Her short stories have been published in several anthologies, including "Dark Spires" and "Future Bristol", as well as a number of magazines. A collection of short stories, "The Feline Queen" was by Wolfsinger Publications in April 2011. She is also the chair of Bristolcon, Avon's leading Science Fiction convention. Her personal website can be found at www.hierath.co.uk, and she's always happy to hear from readers.
Where to find Joanne Hall online
Books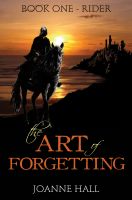 The Art of Forgetting:Rider
(3.00)
Gifted and cursed with a unique memory, the foundling son of a notorious traitor, Rhodri joins an elite cavalry unit stationed in the harbour town of Northpoint. His training reveals his talents and brings him friendship, love and loss, and sexual awakening; struggling with his memories of his father who once ruled there, he begins to discover a sense of belonging.