Ian Watson
Biography
Ian Watson made a bit of a splash in 1973 with his debut novel of psycholinguistics, The Embedding, which won amongst other awards the Prix Apollo in France. After a first degree and a research degree in English Literature from Balliol College, Oxford, he lectured at universities in Dar es Salaam, then in Tokyo, then in the History of Art school in Birmingham, UK, before becoming a full-time writer in 1976. Numerous novels of science fiction, fantasy, and horror and a dozen story collections followed, all of them now available as ebooks through Gollancz's www.sfgateway.com - apart from Ian´s 4 delirious gothic space operas set in Games Workshop´s Warhammer 40K universe, but including the first full-length genre fiction book by 2 transgressive European authors with different mother tongues, The Beloved of My Beloved, co-authored with Italian Roberto Quaglia, one story from which won the British SF Association Award for Best Short Fiction of 2009. 9 months' spent eyeball to eyeball with Stanley Kubrick resulted in screen credit for the Screen Story of A.I. Artificial Intelligence made by Steven Spielberg after Kubrick´s lamented death. These days Ian lives in Asturias in Spain, where goblins swig cider while playing bagpipes in the green rainy hills.
Where to find Ian Watson online
Books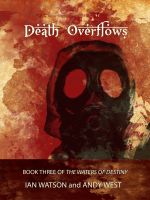 Death Overflows - Ian Watson & Andy West
by

Ian Watson
The American agent has two masters and an alternate agenda. He isolates Abigail and Paul at a compound in Nebraska while plague begins to ravage a world unaware of their discoveries – until surprise rescue frees them to further risk their lives for deliverance. Can Abigail´s knowledge save several billion people from a ghastly death? For back in the 12th century, the Syrian doctor has succeeded.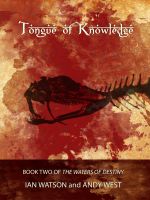 Tongue of Knowledge - Ian Watson & Andy West
by

Ian Watson
Supported by Assassins, the Syrian doctor struggles long in Ethiopia to control plague and preserve it as a weapon. Abigail finds herself robbing medieval tombs in Provence and Spain, hunting for the doctor´s mystical waters of death and of life. Betrayed and almost killed, she and her journalist companion Paul are saved by an American agent, as a modern-day Assassin begins to infect the world.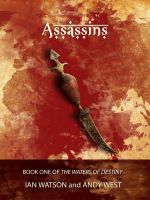 Assassins - Ian Watson & Andy West
by

Ian Watson
A mysterious medieval poem leads young historian Abigail LeClaire to the Middle East. Also into love, deadly danger and the displeasure of US authorities as she puzzles over how the fanatical Assassin cult of long ago might be connected to modern terrorism. Back in the 12th century a Syrian doctor of genius becomes obsessed with understanding the plague we know as the Black Death, and taming it.
Ian Watson's tag cloud