Jorge Olmos
Biography
JORGE OLMOS FUENTES (1963) es profesor, editor, poeta y facilitador de constelaciones familiares. Su formación la obtuvo en un diplomado impartido por el Instituto Bert Hellinger de México. Asesora talleres y facilita consultas terapéuticas individuales, organizacionales, empresariales y pedagógicas. Es autor de los libros: Amor de arena, En la propia tierra, Tierra del corazón, Música negra el enunciado, Baladas un poco tristes, Alumbramiento del asombro y Las cosas como son.
Where to find Jorge Olmos online
Where to buy in print
Books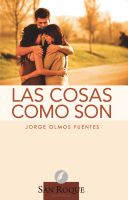 Las cosas como son
Este libro está centrado en la vivencia de las Constelaciones Familiares, técnica terapéutica cada vez más difundida. Sus páginas recopilan una serie de artículos escritos con la finalidad de aclarar ideas, con el propósito de ejemplificar nociones y de testimoniar aplicaciones prácticas de esa técnica.