Joseph Zieja
Biography
Joseph Zieja was born and raised in New Jersey by a pack of loud Italians and Poles, which qualifies him as a sarcastic spaghetti sauce enthusiast who dabbles in pierogis and knows what real pizza is supposed to taste like. Fascinated by the power of the well-told story, it is difficult to find him apart from a good book or a plot-rich video game, unless of course he's writing one of his own.

Although his works focus mainly on serious speculative fiction such as epic fantasy, some of his best-received material has been wacky humor reminiscent of Terry Pratchett or Douglas Adams. His shorter scribblings have appeared in various professional and semi-professional magazines across the web and in print, such as Daily Science Fiction, New Myths, and an audiobook at Dunesteef Audio Fiction.

He is currently working on the outline for his fourth novel, the first in an epic fantasy series known as "The Deicide Trilogy", as well as preparing his previous novels for submission to agents and editors. During the day he works as a member of the U.S. Armed Forces, saving the world one Powerpoint presentation at a time.

You can read more about Joseph at his blog: http://josephzieja.wordpress.com .
Where to find Joseph Zieja online
Books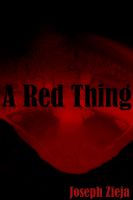 A Red Thing
"A Red Thing" follows one man's journey through the dissolution of his humanity as a demon takes control of him and uses his body to wreak havoc. The lines become blurred between a conscience lost and a power gained, and he must fight every moment to retain some shred of the man he once was. This is a dark fantasy short story.