Josh Cade
Biography
Josh Cade, a graduate of the University of Arizona, has been to Miami, Fla., but only in the airport - somebody was asking about that... Anyhow, the avant-garde literature comes from living in places where there is no water.
Books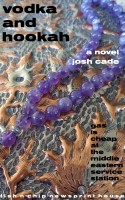 Vodka and Hookah
This story is about the fine art of getting someone beheaded because you don't like them. It's true that big historical stuff sort of gets in the way of all the petty agendas in the story, but not to worry - petty agendas will win out. It is the spring of 1987, and Clee Pike is a Catholic priest working as a calligrapher in the Kingdom of Saudi Arabia.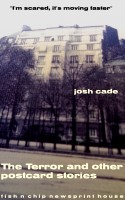 The Terror and Other Postcard Stories
(2.00)
People who get all holier-than-thou about what other people do - they need to keep their mouth shut, especially if they once got themselves trapped in an old refrigerator. Other tyrants and revolutionaries also appear in these 36 postcard stories of about 100 words apiece. The Czechs respond by throwing people out the window. The French just use the guillotine, which still echoes in our ears.
Josh Cade's tag cloud