Bradly Jay Keller, M.D.
Biography
I remember being a small child sitting at the kitchen table. My siblings were present as well. On a cold winter morning we huddled around the frayed table cloth to feel the warmth of cinnamon toast fresh from my mother's oven. The aroma of toasted fresh bread, flavored with butter, cinnamon and sugar still fills my senses. What more can I say about who I am?
Where to find Bradly Jay Keller, M.D. online
Books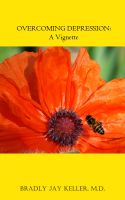 Overcoming Depression: A Vignette
A compelling vignette discussing depression and its treatments from a balanced perspective.
Bradly Jay Keller, M.D.'s tag cloud