Joshua Clark
Biography
Joshua Clark teaches junior and senior high English in Norfolk, Nebraska. He also coaches boys' basketball and assists with the Bully Intervention Team at school. When he's not writing or reading, he is running and putting miles on his Trek. A self-proclaimed movie addict and music junkie, he also fills his time delving into ESPN's SportsCenter and puzzles.
Where to find Joshua Clark online
Books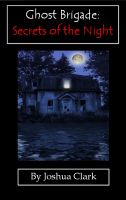 Ghost Brigade: Secrets of the Night
Tyler Marshall has no idea what's next. He's an average adolescent boy on the verge of a defining moment in his life. School is letting out for summer. To make matters worse, his dad lost his job and they may have to move. The odds are stacking up. Finally Ty's time has come—in the form of a mysterious disappearance.
Joshua Clark's tag cloud