Joshua Grover-David Patterson
Biography
Joshua Grover-David Patterson is a freelance writer, screenwriter, and blogger. His articles on pop culture, film and the Internet have appeared in The Post-Crescent, Bull magazine, delight! magazine and Film Threat. Patterson's films have won 13 awards and appeared in 29 film festivals all over the world, including in Japan, Australia, Hungary, Norway, the UK, and throughout the United States. Patterson resides in Wisconsin with his wife and their daughter. You can follow him via Twitter at www.twitter.com/GroverDavid, Like him on Facebook at www.facebook.com/JoshuaGroverDavid, or follow his book-blogging at groverdavid.blogspot.com.
Where to find Joshua Grover-David Patterson online
Books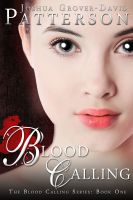 Blood Calling
(5.00 from 1 review)
Lucy Leary's eighteen year old life is a wreck. Her parents divorced, she's earned a DUI, and her grandfather has died. He left her a single possession: A vampire slaying kit with a note that says, "They're real. Fight them."
Joshua Grover-David Patterson's tag cloud