James Roy Daley
Biography
James Roy Daley is a writer, editor, and a professional musician. He studied film at the Toronto Film School, music at Humber College, and English at the University of Toronto. In 2007 his first novel, The Dead Parade, was released in 1,110 bookstores across America. In 2009 he founded a book company called Books of the Dead Press, where he enjoyed immediate success working with many of the biggest names in horror. His first two anthologies, Best New Zombie Tales Volume One, and Best New Zombie Tales Volume Two, far exceeded sales predictions, leading many of the top horror writers in the world to view his little company as one worth watching. 13 Drops of Blood is his first collection.
Books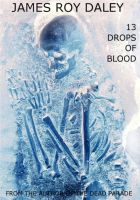 13 Drops of Blood
By
James Roy Daley
Price:
$4.99 USD.
Words: 51,360. Language: English. Published: December 17, 2010 by
Bob Booth
. Category: Fiction
13 Drops Of Blood is the first collection from one of the more exciting new voices in horror, James Roy Daley. A man of many disciplines (novelist, editor, musician), this book features tales which run the gamut of style and subject; in other words, the stories are as eclectic as their author. What does not waver throughout the collection is Daley's undeniable craftsmanship as a storyteller.
James Roy Daley's tag cloud