Jeremy Shory
Biography
Jeremy Shory is an up-and-coming young author, looking to share his passion for writing with the world. He was born on July 6, 1984 and grew up in Orlando, Florida, where he was exposed to whimsical and fantastic adventures–often used as a basis for his writing.

His interest in fantasy began at an early age, and he has recently taken a special interest in the young adult fantasy genre. The idea of transporting the readers mind to a magical place and captivating them throughout an entire journey drives Jeremy to keep his imagination churning.
Where to find Jeremy Shory online
Books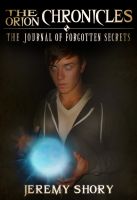 The Orion Chronicles: The Journal of Forgotten Secrets
The 1st of The Orion Chronicles, teenage Orion Martins finds himself inadvertently lured into a sadistic game of life & death designed by a mastermind thought to have vanished 100 years ago. The more he ventures into this evil scheme, the more dark family secrets he uncovers. Orion finally decides he's had enough & takes matters into his own hands to start controlling his own fate...so he thinks.