John Sundman
Biography
John Sundman is a freelance technical writer, essayist, novelist, self-publisher, volunteer firefighter, food pantry co-director, former Peace Corps Volunteer, husband, father, and advocate for people with disabilities who resides on the island of Martha's Vineyard, very near to Massachusetts, USA. He has spent more than 20 of the last 30 years somehow connected to the Silicon Valley/Boston high-tech/computer industry. He also has experience as a farmer, student of agricultural economics, and worker in rural African agricultural development. His books are more subtle than they appear.
Where to find John Sundman online
Where to buy in print
Books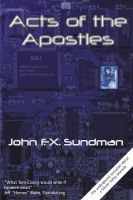 Acts of the Apostles
(4.50)
In 1990, hardware engineer Todd Griffith is shot after discovering a secret function in a computer chip. Years later, Todd's best friend Nick stumbles onto a conspiracy involving nanomachines, mind control, Gulf War Syndrome and an insane Silicon Valley messiah. Nick must stop this madman and his apostles, but he needs Todd's help. And Todd's been in a coma for nearly half a dozen years.