Bruce Caron
Biography
I'm the founder and current executive director of the New Media Studio and the New Media Research Institute in Santa Barbara. I am a social anthropologist and an urban cultural geographer. I completed the first multimedia dissertation at UC Santa Barbara. Through the New Media Studio, I am realizing the goal of bringing new tools and skills to the public to help democratize the technological advantages of the digital revolution. I studied with Frank Herbert in Seattle in the 1970s. I have been active for several years in issues of digital libraries, the use of multimedia in education, issues of democracy in digital organizations, and the theory of digital media. I'm leading a public awareness action in Santa Barbara, lightblueline.org, which proposes to paint the seven-meter elevation contour on that city's streets, to mark the vulnerability the community faces due to human induced climate change. We have plans to make this national and global now that Obama has been elected. I'm also working on developing social networking tools for scientists, and I've just finished another science fiction novel.
Where to find Bruce Caron online
Where to buy in print
Books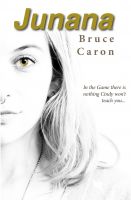 Junana
Junana tracks the arc of a new society in an alternative present time, using concepts and technologies that are mostly available today. Junana displays the future of education that many top scholars in the field are beginning to discuss.The eventual convergence of Internet gaming and education will put powerful learning tools into the hands of teens. In Junana we follow several of these teens.