Marc Goldfinger
Biography
Born last century in a city hospital. I've been writing since grade school but got lost in the 60's, like Dorothy I fell to the Poppies; my detour off the yellow brick road lasted over three decades, just when I thought there was no hope--a miracle happened. When I sold my motorcycle for short money to feed my habit, I knew I was lost. Things got worse. It's in the book. Kicked heroin, cigarettes in that order, went from a bag-man to a happily married home owner, props to Spare Change News, and, while writing poetry decided to share a how-to book with directions back from hell. For counselors, shrinks, and especially for addicts.
Where to find Marc Goldfinger online
Books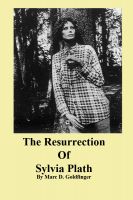 The Resurrection of Sylvia Plath
(5.00)
The Resurrection of Sylvia Plath, poetic excerpts by Marc Goldfinger.