Karen Morrissey
Biography
Karen A. Morrissey read her first science fiction, The Green Hills of Earth by Robert Heinlein, in the third grade. She loves Marion Zimmer Bradley's Darkover stories and Orson Scott Card's Ender tales, but channels the absurd humor of Douglas Adams in her own writing.
Where to find Karen Morrissey online
Books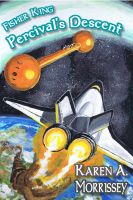 Fisher King: Percival's Descent
Can a young man with his eyes on the stars leave behind a miserable life that won't let go of him?
Karen Morrissey's tag cloud