Kang Manul, Sr
Biography
Muhammad Luqmanulhakim, also known as Kang Manul, was born in Garut on 6 July 1984. He graduated from Agricultural Faculty of Padjadjaran University in 2007. After his graduation, he started his own business and started to write articles and books. In 2009, he received an appreciation from British embassy towards his service to promote one of his birthplace handcrafts. His passion is all about Indonesian handicraft, Agriculture Commodities and Food Processing.
Where to find Kang Manul, Sr online
Books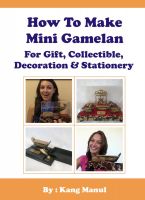 How To Make Mini Gamelan For Gift, Collectible, Decoration and Stationery
This book explains in detail about the history and development of the gamelan in Indonesia and around the world and about the process of making miniature gamelan. This book also explains how to make beautiful artwork, elegant and made suitable for gifts, collections and office equipment.
Kang Manul, Sr's tag cloud