Karen Becker, MA
Biography
I have a master's degree in counseling and years of experience working with parents, children and mentally ill. Through the years, I've been working towards a goal of coaching individuals on what matters to them -- achieving their personal, professional and relationship goals.
Where to find Karen Becker, MA online
Books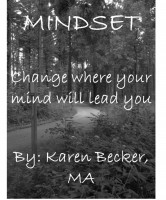 Mindset
When working to achieve your goals, your 'mindset' is what matters, not the goal itself. This workbook takes readers through the steps necessary to change their 'mindset' and achieve their goals.
Karen Becker, MA's tag cloud