Katey Schultz
Biography
Katey Schultz grew up in Portland, OR and is most recently from Burnsville, NC. In 2008, she graduated from Pacific University with an MFA in Creative Writing. Her fiction has received numerous awards, including the Linda Flowers Literary Prize awarded by the North Carolina Humanities Council. She is author of the chapbook Lost Crossings, editor of TRACHODON Magazine, Advisory Board Member for Memoir (and) Journal, and editor of two fiction anthologies published by Main Street Rag. Currently, Katey is travelling from 2010-2012 on writing fellowships through arts organizations across the country. Learn more at www.kateyschultz.com.
Where to find Katey Schultz online
Where to buy in print
Books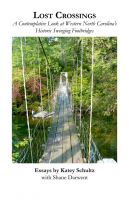 Lost Crossings: A Contemplative Look at Western North Carolina's Historic Swinging Footbridges
(5.00)
This ebook contains 12 brief, contemplative essays and numerous photographs documenting North Carolina's most historic swinging footbridges. Mitchell and Yancey Counties are home to 13 of the state's 23 remaining footbridges, including the oldest in the state. Lost Crossings is the first book to offer comprehensive footbridge info. Read stories, view the map, and learn about this local feature.