KathyLauren Miller
Biography
Originally from Florida, KathyLauren Miller taught in the public school system for many years. A graduate of FSU, she hold's a Master's Degree in Education. She is the author of the children's series, The Magic Minute Reader, interactive books that facilitate sight words through sign language for pre-schoolers. Kathylauren was awarded a United States Intellectual Patent for the process. KathyLauren lives in Atlanta, Georgia with her husband, Jay and beloved dachshund, Bunny. This is her first novel.
Where to find KathyLauren Miller online
Books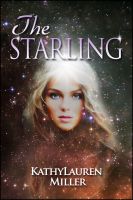 The Starling
Book 1 of The Starling Trilogy chronicles the struggles of a teenage girl who, by a twist of fate, is transported through time to earth's dystopian future where humans are dominated by a malevolent AI and Humanoids. Used as bait to draw out free humans, Jamie risks her life to warn them even as she finds herself falling for her handsome guardian, Quinn. The problem is he's not exactly human.
KathyLauren Miller's tag cloud