Kayley Ireland
Biography
Born in Colorado, moving to multiple states, and traveling abroad Kayley has had the luxury of seeing world. Her travels have given her the fuel to write with familiarity about different lands and cultures. Kayley has a passion for telling stories. Naturally she became a novelist. Though she has perused several different careers in her life, writing has always brought her the most joy. Kayley's inspiration comes from her wild yet vivid dreams. Understandably, Kayley often has multiple projects running at once. Expect many thrilling novels to come from Kayley as she continues her zeal for storytelling.
Books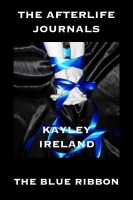 The Afterlife Journals: The Blue Ribbon
(5.00 from 2 reviews)
When we first meet Sarah Walden she is a young girl struggling to find a way to be a proper lady. She is close with her family and wants nothing more than to bring them honor. She has no idea what fate has in store for her or how difficult her life is going to become. Sarah tends to be more outspoken than women of this age are permitted to be.
Kayley Ireland's tag cloud