kelli cooper
Biography
Kelli Cooper does not know what to say about herself. She loves traveling and is committed to becoming her best self every moment. While challenging at times, she is progressing quite nicely. She believes the key to true happiness lies in living your life on your terms, regardless of what other people think of your choices. Like many childfree people, Kelli has an unhealthy obsession with her pets, currently two adorable cats. Still not sure what she wants to be when she grows up, right now she is focusing her efforts on following her passion for helping others improve their lives, which will hopefully lead to a nice source of income.
Where to find kelli cooper online
Books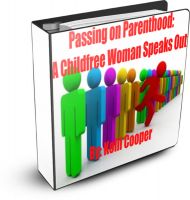 Passing on Parenthood: A Childfree Woman Speaks Out
By
kelli cooper
Price:
$4.50 USD.
Words: 38,260. Language: English. Published: October 18, 2011. Category: Nonfiction
Passing on Parenthood: A Childfree Woman Speaks Out was written to give a voice to a group of people still largely misunderstood and judged. Those who have chosen not to have children will find validation while those who have not yet had children will get some hearty food for thought.
kelli cooper's tag cloud