Ken McKowen
Biography
Ken McKowen began his professional writing and photography career while a California state park ranger, having a travel/nature feature story published in a major newspaper travel section in 1977. In later years he became the head writer for the California State Parks' marketing and public relations office writing feature articles published in hundreds of newspapers, speeches for directors and governors, advertising copy, booklets and more. His first book, California's Great Outdoor Events was published in 1995, with several more titles to follow including The Highroad Guide to the California Coast. Ken and his wife Dahlynn coauthored several titles with Jack Canfield and Mark Victor Hansen in their Chicken Soup series, including Chicken Soup for the Fisherman's Soul. The couple also wrote Best of Oregon and Washington's Mansions, Museums and More along with the highly acclaimed and national award winning Best of California's Missions, Mansions and Museums. The writing couple has authored wine books, including Wine Wherever in California's Mid-Coast and Inland Regions and the Wine-Oh! Guide to California's Sierra Foothills. They are the creators of the current Not Your Mother's Book anthology series.
Where to find Ken McKowen online
Where to buy in print
Books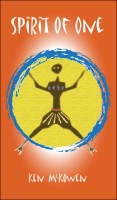 Spirit of One
In the time of wishtongues, wizards and talltalists, the Principles of the Family Tanox strangle all those inside its expanding empire. An unlikely hero emerges from near the beginning of the end of light. Zennan's quest to free his people causes beautiful Meeshannette's kidnapping. His quest expanded, he is joined and sometimes misled by curious creatures, wizards, wishtongues and villagefellows.