Kevin McGill
Publisher info
Kevin knew he liked this writing gig when 3rd grade classmates paid him two bucks for every story he wrote. Unbeknownst to him, the students turned in the stories as homework assigments (If Kevin had known, he would have charged double). His literary operations were exposed because the monkey scribble was undeniably Kevin's handwriting. Unless, it actually was monkey scribble. Kevin was cast into detention. But, being the industrious boy that he was, detention served as a place only to imagine more fantastic worlds. Today, his wife graciously listens as he reads wild stories about foul monsters, fire-breathing winged lions, and the mysterious voice of Huron city, which speaks only to its 14yr old steward, Nikolas Lyons. Kevin now welcomes you into his world.
Where to find Kevin McGill online
Books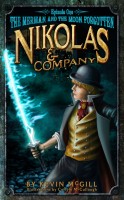 Nikolas and Company Book 1: The Merman and the Moon Forgotten
by

Kevin McGill
"Goofball!" "Lot's of laughs!!"Just off kilter!" "Wacky!" "Fun!" _____ Nick must save a race of Merfolk but a few things stand in his way. First, Merfolk live on the Moon. Second, they're tens of thousands of years in the past. Third, he's grounded for blowing up the shed...again.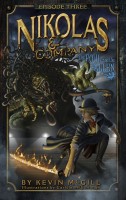 Nikolas and Company Book 3: The Foul and the Fallen
by

Kevin McGill
Nikolas's best friend, Xanthus, is slowly turning to stone, and all he can do is watch. The boy steward will have to take a stand against the Council of Teine, the wicked Sheriff Silas Gorringe, creepy orphanage keepers, a mischievous automaton arcade, a horde of blood-thirsty monsters, and even his closest friends, to try and find a cure for Xanthus. Nikolas is in a race to save his best friend.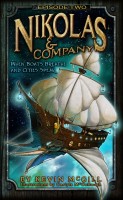 Nikolas and Company Book 2: When Boats Breathe and Cities Speak
by

Kevin McGill
Fourteen-year-old Nick and friends find themselves on a journey to Earth's magical moon and the great city of Huron. Called by the voice of Huron to stop the Rones' advancement of evil, Nick's first task is to alert the city council of Huron. Expecting his job to be an easy one, he quickly finds himself stopped by the wicked sheriff of Huron, Cyrus Gorringe.
Kevin McGill's tag cloud