Kevin Patrick Leech
Biography
Kevin Patrick Leech works in the financial sector in New York City. Like a good Bond Villain, he started a business in Eastern Europe, a time during which he made some bad hiring decisions, expanded too rapidly, and blew a pile of money at the hotel where they shot the poker scene in Casino Royale. Ever since he earned an MBA from New York University, he has wondered why Bond Villains' top advisors allow them to undermine great businesses with half-baked plans for global destruction.
Where to find Kevin Patrick Leech online
Books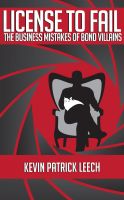 License To Fail: The Business Mistakes Of Bond Villains
IF YOU SUCCEED IN DESTROYING THE WORLD, WHO WILL BE YOUR CUSTOMERS? In the 22 James Bond movies, the villains are often successful entrepreneurs with dominant market positions. "License To Fail" finally takes these entrepreneurs to task, proving that the downfall of each is not due to the intervention of James Bond, but is actually the consequence of bad business decisions.
Kevin Patrick Leech's tag cloud