Karlo Marko Altomonte
Biography
Born on September 20, 1973 to photographer Charles Altomonte and actress Gigi Duenas. Actor, director, composer, writer, photographer, filmmaker and father of 5. Currently lives in Baguio.
Smashwords Interview
Where to find Karlo Marko Altomonte online
Books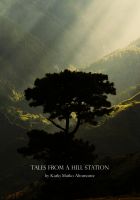 Tales from a hill station
A narration of my experiences as a resident of Baguio and an expression of my views on art, culture, politics and life in general in the new millennium in what was once known as the most beautiful hill station in Asia.