Kelley Lenhart
Biography
Aside from trying to write daily, I work with my roommate to create costumes and crafts, exhibit my collies with my mother and grandfather, draw, and fence saber. I have been writing avidly since middle school, and my mind is always full with ideas that I don't always have the time to flesh into full stories.
Where to find Kelley Lenhart online
Books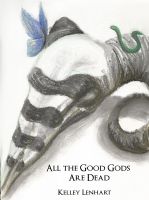 All the Good Gods Are Dead
(5.00)
How can you hunt a God? How can you kill a God? How can you make a new God? What discerns a man from a beast, a snake from a butterfly? When the golden-eyed priestess of Tzra carries her God into new lands to forcefully convert the minds of the people, a disfigured man emerges as the most unlikely of saints.