Lauren deLisa Coleman
Biography
Said to be the Anti-Oprah, in terms of recognizing that in the new "leaderful" era the best approach is to provide maximum perspective and digi-socio support rather than try and dominate behavior as the gurus of old, Coleman is well-positioned as an information source and power player in the socio-mobile space. Frustrated and confused as to why so much of what the 18-34 market segment has been told will work to ensure great lives but doesn't, this demographic is turning to Coleman as a source because of or her no-holds barred approach that brings in a tech mash-up. Coleman has taken the lead knowing that the best one can do now is support people, particularly 18-34 in finding their own voice amidst turbulent times and how to best use digital platforms in the era of self-competency. She has labeled this new phenomenon under her re-definition of SmartPower, that is a specific and growing tribe of hip, young neo-humans who are self-determinant, socially conscious and use tech extensions, such as Smartphones, to explore and express a new power dynamic. Coleman speaks, writes and consults on the convergence of 18-34 with tech platforms and examines the impact of that on culture an business. She appears frequently on San Francisco's KPOO as new media critic, has been featured as guest lecturer at Columbia University, moderated a number of panel discussions both in the U.S. and abroad and contributes thought-pieces to such outlets as NewsweekDailyBeast, MadameNoire.com and cnbc.com. Prior to her concentration as a socio-economic digitalist, she founded Punch Media Group (PMG), a strategy and consulting company in with offices in the U.S. and Europe specializing in digital space whose clients ranged from Microsoft to Snoop Dogg and was responsible for at least $1 billion worth of goods sold via clients. Prior to PMG, Coleman held several positions at MTV Networks in New York City. She is an Ivy League graduate; Columbia University. The Rise of the SmartPower Class is her first eBook.
Where to find Lauren deLisa Coleman online
Books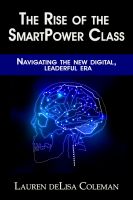 Rise of the SmartPower Class: Navigating the new digital, leaderful era
by

Lauren deLisa Coleman
(4.00)
Rise of the SmartPower Class: navigating the new digital, leaderful era is timely look at how behavior and mindset are converging with technology to create a new dynamic and new class worldwide. Includes quotes from notables including rap legend Chuck D of Public Enemy and the executive producer of HBO's "Real Time with Bill Maher." New from socio-economic digitalist Lauren deLisa Coleman.
Lauren deLisa Coleman's tag cloud