Helen Collins
Biography
Hello I am Helen.I am Scottish. I enjoy travelling. I have enjoyed living and working in different countries seeing new places and meeting new people.
I have always worked as a Counsellor, a job a feel privileged to do.. I also run workshops on various subjects on personal development.
My current favourite workshops are those on Creativity.
I love working with people encouraging them to risk sharing their sometimes hidden dreams of how they would like to express their creativity; seeing them work towards that dream.
I met Murray in Spain. She arrived in my imagination one day when I was having a massage,complete with her Waterfall Home, her Crystal room and her Apple Mackintosh computer.I fell for her peaceful life in Canada,her curiosity ,and her love of clothes.
I am the proud mother of two sons. Murray allows me to enjoy the company of bright intelligent interesting little girl.
Where to find Helen Collins online
Books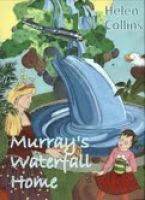 Murray's Waterfall Home
(4.50)
murray is ten. She lives behind a waterfall in the rocky mountains of western canada. She enjoys peace and quiet, loves colours and colourful clothes. She loves her computer too and uses it to find out all about the cities of europe. she dreams of travelling to see them one day. murray is friends with the bears in the forest and a powerful eagle who is be able to fly far and wide. one day..