Lisa Ray Turner
Biography
Lisa Ray Turner is an award-winning writer of both fiction and nonfiction. She is the author of three novels, a book of essays (co-authored with Thomas S. Bollard), and many magazine articles for national publications. Lisa graduated with a bachelor's degree in Education and received her master's degree in Music. She teaches writing at Lighthouse Writers in Denver, and humanities at the University of Phoenix. Lisa is an avid coin collector. Unfortunately, as soon as she collects the coins, she spends them.
Where to buy in print
Books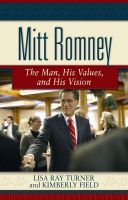 Mitt Romney: The Man, His Values, and His Vision
Mitt Romney is campaigning to be our next president. He is a staunch advocate of free market economics and believes in traditional values. Will voters give him the chance to apply his management proficiency to our federal government? Authors Turner and Field examine his history, policies, alleged flip-flopping, and the controversy surrounding his religion.
Lisa Ray Turner's tag cloud