Lynn Lambrecht
Biography
After an incredible global aviation career, the time has come for me to venture into new territory.

I hadn't found resources to assist me with the practical matters of death when I needed to take care of important details for my family/friends, thus I wrote one!

I wrote this as an overview and it contains a tremendous amount of information, packed in a short manual. My hope is that people will approach this topic while fully engaged in living, thus participating fully in the process and assisting their loved ones, before their time is finished here.

In starting this phase of my life, I elect to share knowledge and experiences to provide knowledge and insight; to encourage and inspire others to take action and better their lives; to be supportive and uplifting in all interactions; and to display integrity, express truth and provide service with compassion for the betterment of those encountered.

Live life fully!
Where to find Lynn Lambrecht online
Books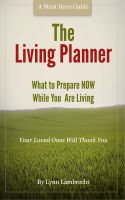 The Living Planner
Have you given any thought to what your family must "do" after your death? Preparing for the practical matters of death while we are busy living our lives does not come naturally for most. The Living Planner was written to provide an overview about issues to consider and what will be needed after a loved one dies.