Logunede Jones
Biography
Logunede Jones enjoys writing about sexual encounters among people and among peoples. He dreams of the day when bisexuality is finally accepted as the norm. Be brave, be bold, be bi! Carpe diem. More stories coming your way in 2013...
Where to find Logunede Jones online
Books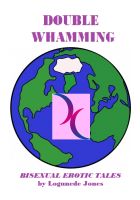 Double Whamming
Bisexual Erotic Tales. An Egyptian princess gets an anatomy lesson from her lusty slaves. Former roommates reconnect in the way they had always dreamed. Revolutionaries discover erotic terrain in the battle for American independence. Gym buddies open up to the teachings of the Sex Guru. International diplomats forge a treaty of lustful longing. An orgy ensues backstage at a Shakespeare festival.
Logunede Jones's tag cloud