L. Sterling Requate
Biography
"Sterling," as friends and colleagues know her, did not intend to write a novel; after all, when she was 23 she thought for sure she was going to be a rock star. For the next 24 years, she sang jingles for local businesses; performed with several bands; provided back up as a studio musician, and was a voice-over talent. That was for fun—she earned a living as an Instrument & Electrical Technician for a major oil company.

In 2009, everything changed, when, following an industrial accident, Sterling was medically retired. Unable to work, she began to piece together images that she had dreamed about since age 14, and "committed ink to parchment." Writing became pain management, and a way to ward off depression. It is now her passion.

Sterling lives in Arizona with her husband John and their two cats, Boo and Paddy. When not engaged in writing, she enjoys rolling through the desert in a "much modified" 1991 Jeep Cherokee.
Where to find L. Sterling Requate online
Books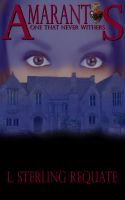 Amarantos - One That Never Withers
(5.00)
Hana awoke in an unfamiliar English manor, amnesiac to the present, yet with vivid memories of a distant past. With the help of resident psychologist Dr. Beth Seer, she will return to 'her' time—a tale that pits promises with murder; belies logic with lore. Little does she realize the affect these memories will have on her present and future.