Luciano Castellano
Biography
Luciano Castellano è nato a Torre del Greco (Napoli), alle falde del Vesuvio, dove ha vissuto fino alla laurea. Giovanissimo ha iniziato a insegnare Storia e Filosofia nel Liceo di Roccadaspide prima e di Agropoli poi. Il suo primo libro "Filosofia di classe per tutti" ha vinto il premio narrativa 2010 "Mario Soldati" ed il premio "Internazionale Pomigliano d'Arco". Docente nei corsi abilitanti, per molti anni è stato "Funzione obiettivo e strumentale per l'aggiornamento degli insegnanti". Medaglia d'oro "Comune di Roccadaspide" per meriti culturali, nel gennaio 1979, tre anni fa, tramite internet, è riuscito a contattare circa cinquecento ex alunni, alcuni in lontani paesi europei, (tre professori universitari, molti affermati professionisti e, soprattutto, tanti cittadini onesti). In pensione come professore, insegna all'università popolare della terza età ad Agropoli.
Where to find Luciano Castellano online
Where to buy in print
Books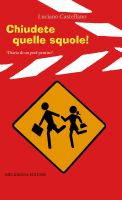 Chiudete quelle squole!
Un insegnante, di quelli appassionati che credono nella scuola e nell'onestà intellettuale di chi ne fa parte, si trova a fare i conti con realtà corrotte e intrise di lassismo nelle scuole non statali, veri e propri esamifici in cui è stato commissario e presidente di commissione.