Luna Lindsey
Biography
Luna Lindsey was born into the LDS Church and left the faith in 2001, at age 26. She now lives in Seattle, WA and writes about topics of interest to her, including psychology, mind control, culture, and autism. She also writes science fiction and fantasy novels. When she's not busy traveling to improbable worlds, or thinking hard about this improbable world, she's enjoying life with her large and improbable family.
Where to find Luna Lindsey online
Books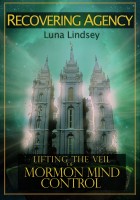 Recovering Agency: Lifting the Veil of Mormon Mind Control
As a former Mormon, Luna Lindsey presents years of research into social psychology and the science of cult dynamics, to describe 31 mind control techniques, alongside examples of their use in Mormon scripture, lessons, and from the pulpit.
Four Fae
A collection of four short stories about faeries who live in Seattle. Hegwimple is a book-loving gnome who hopes to find rare tomes on the bus. Vivian is a crazy cat lady, and a witch. Perstin Nimblethumbs is an artist who borrows a little paint... And a tiny spright is born in a dirty kitchen sink.