Luz Jacobs
Biography
Luz Jacobs is a Psychologist, Anthropologist and popularly known as 'a human polygraph'. He brings his rich knowledge of human nature to help women who desire true and meaningful love relationships. He also seeks to improve the dating habits of by addressing the difficult issues that affect women in relationships. His aim is to help couples build that solid foundation that will ensure the trust, love and excitement before and after the wedding. Shoot him an email at luzjacobs@gmail.com and he will gladly respond ASAP with in-depth counsel and wisdom.
Books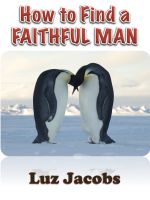 How to Find a Faithful Man
Where are all the faithful men? Are they in church, in the club or we by-passed them in college? Statistics show that 50% of marriages fail before their 5th year. Perhaps the other 50% succeed! Could it be that good and faithful are still so available? Yes! I share 7 irrefutable, time-tested principles on how to find that faithful man based on his past,present and future.
Luz Jacobs's tag cloud