Luz Ortiz
Biography
Luz Ortiz is a picture book writer and illustrator born in Cali, Colombia. She started her career in advertising working as a copywriter in Spain and the United States. That experience led her to explore different avenues of the writing world and ultimately helped her find her passion which is writing and illustrating children's books. After living for 10 years in Miami, she moved to New York City where she freelances as an illustrator. Delivering positive and empowering messages is the intention and inspiration behind Luz's work.
Books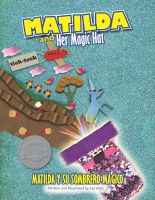 Matilda and Her Magic Hat / Matilda Y Su Sombrero Magico
By
Luz Ortiz
Price: Free! Words: 1,790. Language: English. Published: November 2, 2011 by
Monarca Press
. Category: Fiction
Is Matilda's new hat really magic? Read on to find out all the places Matilda visits when she puts the hat on her head!
Luz Ortiz's tag cloud