Larry William Richardson
Biography
Larry W Richardson was born in New Brunswick, raised in Ontario and after living and traveling all over Canada, finally settled in St Catharines Ontario. He joined the RCAF in 1966 and retired in 1995. TCOM, his first novel, was written for the most part while traveling and working in the Canadian Arctic during 2006-2010. His experiences as a husband, technician, parent, Military Officer, Project Manager and late-to-the fold Pink Floyd/Roger Waters fan have influenced TCOM. He is a consultant to the Defence Communications Industry.
Where to buy in print
Books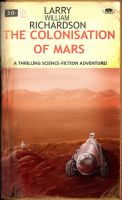 The Colonisation of Mars
(5.00)
Warning!! This book is not for those under fifty-five. If you are looking for Fifty Shades of Mars, look somewhere else. This book is about a one way trip to Mars in 2040 by 150 senior, 'expendable' scientists to finally establish a permanent Martian colony. It is a book about loss, about regret, about being the last human on Mars and serves as a cautionary tale to Mars astronaut wannabes.
Larry William Richardson's tag cloud