Margaret Clarke
Biography
Margaret Clarke, born in 1946, was brought up in Sheffield. Moving to Nottingham in 1973, she read English at Nottingham University and subsequently taught in Nottinghamshire schools. Her career before retirement was with local authorities advising on curriculum development. She is married to Brian. They have two sons and four grandchildren.
Where to buy in print
Books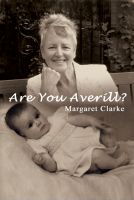 Are You Averill?
Are You Averill? is a moving account of the search by an adopted child for her birth parents. We all have a desire to know who we are, where we come from. Not all searches into the past are successful but this heartwarming tale of joy and tragedy told with warmth and humor will spur anyone wanting to make that journey for themselves.
Margaret Clarke's tag cloud