Marie Romero Cash
Biography
Marie Romero Cash was born in Santa Fe, New Mexico, to a family that would eventually number seven children, and has lived there most of her life. After graduating from Santa Fe High School, she took a job as a legal secretary, a field that would provide a lifetime of employment. But then, in her mid-thirties, she discovered the traditional arts of northern New Mexico. After twenty years of creating award-winning art, she began to write about it, but decided she needed a higher education to do so. At fifty she enrolled in college and, five years later, graduated with a degree in Southwest Studies. In 1998, she received the prestigious Javits Fellowship to pursue her education.  Since then Marie has written several books about the art and culture of the southwest, including a memoir about growing up in Santa Fe. This novel, her first mystery, is based on the ranch where she spent a lot of time during her marriage to a cowboy. "Don't get me wrong," she says, "I'm the last person you would ever picture on a ranch. The alligator boots I purchased in 1987 still look like new!" You can find Marie on the Web at MarieRomeroCash.camelpress.com.
Where to find Marie Romero Cash online
Where to buy in print
Books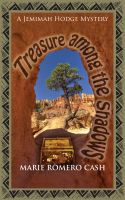 Treasure among the Shadows
When prickly Gilda Humphreys is murdered near Santa Fe, there is no shortage of suspects. All Forensic Psychologist Jemimah Hodge and her new boyfriend Sheriff Rick Romero have to go on is a similarity to another cold case, the woman's obsession with a local treasure hunt, and her midlife sexual escapades. In fact, the killer is close by. Too close. The third Jemimah Hodge Murder Mystery.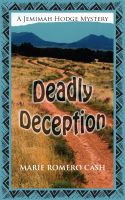 Deadly Deception
Forensic psychologist Jemimah Hodge is handling a cold case that concerns the death of a policeman's wife. After she and her would-be beau, Detective Rick Romero, survive separate shooting incidents that seem to related to the case, they must put aside their differences and distractions and work together to solve it. Will they be able to identify the culprit in time to save themselves?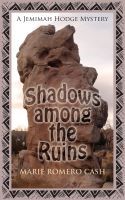 Shadows among the Ruins
Forensic Psychologist Jemimah Hodge has just moved to the foothills of the Ortiz Mountains south of Santa Fe and taken a job with the local Sheriff's department. There she expects to assess a few petty criminals a week. Wrong! Along with two handsome detectives, Jemimah finds herself knee deep in the investigation of a series of gruesome murders that took place in an ancient Indian pueblo.