Mark D. Evans
Biography
MARK D. EVANS was born in 1979, near London in the United Kingdom. After moving around the country, doing the usual kind of things like attending school and university, he ended up in a profession that had nothing to do with writing. This turned out to be a rather large blunder, considering he'd been writing ever since he could pick up a pencil. It transpired that the blunder was probably due to his childhood mystification as to why anyone would willingly put themselves through the torture of writing a whole book. Naturally by adulthood, this was exactly what he wanted to do.

He doesn't write for any one particular genre and his tales can be genre-blending, but he always tries to put something new in his work which often comes in the form of warped ideas or a dark twist. He considers his finest moment the time he completed a screenplay for a two-part episode of a famous science-fiction series. Unfortunately, he took so long writing it that the series finished before he did.

His first publication, Dead End Train, was a short story which made it into the Kindle Top 10 of free ebooks.

Mark currently resides in London. His full-time profession still has nothing to do with writing.
Where to find Mark D. Evans online
Books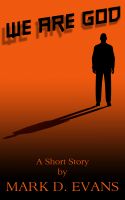 We Are GOD
(5.00)
Here the rain never stops for as long as the sun hides. Here the population of a town rises only when night falls. Here, an art student named Dirk survives on the breadline with a part-time gig few people do, fewer people want, but everyone needs. Here, everyone's a client. Sooner or later.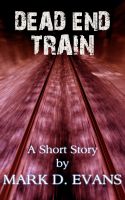 Dead End Train
(4.00)
It's the dead of night. A man wakes up on a speeding train only to find his carriage empty. As his commute home continues, he grows suspicious of the apparent nothingness outside his window. After his gut tells him something's not quite right, he wonders if his carriage is the only one void of life and embarks on a personal journey through a bleak and desolate train. Where will the ride end?