Mark Eller
Biography
Mark Eller has been exiled to a dank basement cavern by his wife, Daneen, because that is the only way he can ignore the distractions of family and eight parrots enough to be able to write. While trapped within his cave, in addition to writing short stories and books, he has recorded and released two audio podcasts, God Wars, a dark fantasy trilogy found at The Hell Hole Tavern, and Mercy Bend, a compilation of twisted tales. Both podcasts can be found at i-tunes. God Wars was written and recorded with Mark's partner, Elizabeth Drapper.
Mark has been published by a number of magazines, both on-line and in print, discovering along the way that in certain segments he has been classified as a horror writer, much to his surprise. He enjoys reading fantasy, science fiction, and mystery, but also has a strong preference for reading about archeology and history.
Where to find Mark Eller online
Books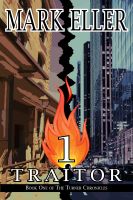 Traitor, Book 1 of The Turner Chronicles
(5.00)
Last Chance - a small town set on the edge of the far frontier. It is a place of gentle manners and common civility. After all, it should be since more than three quarters of its residents are women. However times change when a Talent Master runs rampant, savages threaten war, and an illegal militia from an alternate universe plans invasion and empire. A hero is needed. A Savior.